From the Analogs
of Gemindii
The Flavour Palette
On the Stoop
Black History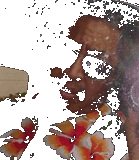 Portraits / Historic
Figurative
Still Lifes
Abstracts
Graphics
Photography
Projects (New Works in Progress)
Fantasy / Sci Fi
Acrylic on Canvas - 1993
12 X 16
Availability: This is a demonstration piece and a personal painting and not available.
Florals

This is a sentimental work here. This is my wife Lela nestling herself amongst and blending into the natural wonders Great Falls. Yes, that is my J (Yes, I call her the J and only I can do that.) just sitting there. This work hangs in our living room.
Special Features